01 Oct

Weekly Recipes – Slow Cooker Breakfast Style

Mornings can be BUSY, right?!?

Whether you're trying to get your kids out the door, yourself out the door, your spouse out the door or all of the above…it can be super hectic and difficult to do anything else other than throw a bowl of cereal in everyone's face before they rush out the door.

Have you ever been guilty of this?

Me!  I have!

Want to know a secret to making your mornings easier?  Start the night before by throwing breakfast into the crockpot so it will be ready to go in the morning!

Here are 4, clean-eating slow cooker breakfast recipes!
Slow- Cooker Pumpkin Pie Steel Cut Oats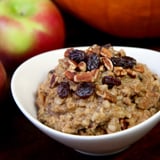 Ingredients
1 1/4 cups steel-cut oats (not to be replaced with quick or rolled oats)
1 cup pumpkin puree
1 apple, diced with skin
3 tablespoons almond butter
4 1/4 cups unsweetened soy milk (can use almond)
1 teaspoon vanilla extract
1/4 teaspoon sea salt
1 teaspoon cinnamon
1/2 teaspoon nutmeg
1/4 cup maple syrup
1/2 cup chopped nuts (almonds, pecans, or walnuts)
1/2 cup raisins
Directions
Add all the ingredients except for 1/4 cup of the nuts and 1/4 cup of the raisins to a glass bowl that will fit inside your slow cooker. Give it a good stir, and place the bowl in the center.
Carefully fill the slow cooker with water, to about 1 inch below the rim of the glass bowl. Cook on low for 8 hours.
In the morning, remove the lid and stir up the oatmeal. Scoop out about a 1-cup serving, and top with a sprinkling of nuts and raisins.
Store uneaten oatmeal in the fridge.
Tip:  Add Greek yogurt to this delish dish if you want some protein!
Source: http://www.popsugar.com/fitness/Slow-Cooker-Pumpkin-Pie-Steel-Cut-Oats-35883531
Cauliflower Hash Brown Slow Cooker Breakfast Casserole
Ingredients
12 eggs
½ cup milk
½ teaspoon dry mustard
1 teaspoon kosher salt
½ teaspoon pepper
1 head cauliflower, shredded (I buy mine already chopped)
additional salt and pepper to season the layers
up to one small onion, diced (can omit or use less)
two 5 oz packages pre-cooked breakfast sausages, sliced (I used turkey sausage. Can also omit, or use about 1 lb bulk breakfast sausage cooked and crumbled, or bacon, turkey bacon, vegetarian sausage crumbles, or chopped ham)
8 oz., or about 2 cups shredded cheddar cheese
Instructions
Grease or coat a 6 quart slow cooker with cooking spray.
Lightly beat together the eggs, milk, dry mustard, salt, and pepper.
Place about a third of the shredded cauliflower in an even layer in the bottom of the slow cooker, and top with about a third of the onion. Season with salt and pepper, the top with about a third of the sausage and a third of the cheese. Repeat the layers two more times.
Pour the egg mixture over the contents of the slow cooker.
Cook on low for 5-7 hours, or until eggs are set and the top is browned.
Tip:  Serve with a side of sliced tomatoes and avocados!
Source: http://cupcakesandkalechips.com/hash-browns-slow-cooker-breakfast-casserole/
Slow Cooker Huevos Rancheros
Ingredients
Nonstick spray
10 eggs
1 cup half-and-half
12 ounces shredded Monterey Jack
1/2 tsp. black pepper
1/2 tsp. ancho chili powder
1 garlic clove, minced
1 (4-ounce) can chopped green chilies, drained
10 ounces taco sauce
8 corn tortillas
Scallions, avocado, cilantro and lime, for garnish


Directions

Spray the inside of the slow cooker with nonstick spray.

In a large bowl, beat eggs with half-and-half, 8 ounces of the cheese, pepper and chili powder. Stir in the garlic and chilies. Pour into the slow cooker and cook (covered) on low for 2 hours. Check occasionally to make sure the edges are not burning.

Remove lid and pour taco sauce over the eggs, using the back of a spoon to evenly cover the eggs, as you would sauce on a pizza. Scatter remaining 4 ounces of cheese all over, replace the lid and continue cooking on low for 15 more minutes.

Let cool slightly, then cut into wedges and serve over warmed tortillas. Garnish with sliced scallions and avocado, chopped cilantro and a squirt of fresh lime juice.
Source: http://www.oprah.com/food/Slow-Cooker-Huevos-Rancheros-Recipe
Slow Cooker French Toast
Ingredients
2 whole eggs
2 egg whites
1 1/2 cups 1% milk, (almond or soy will also work)
2 tablespoon honey
1 teaspoon vanilla extract
1/2 teaspoon cinnamon
9 Slices whole grain bread
FILLING:
3 cups finely diced uncooked apple pieces (Honey Crisp or Gala are both great in this recipe)
3 tablespoon honey
1 teaspoon lemon juice
1/3 cup diced raw pecans
1/2 teaspoon cinnamon
rections
Add the first 6 ingredients to a medium mixing bowl, whisk to combine. Lightly spray the inside of the slow cooker with nonstick cooking spray.
Add all the filling ingredients in a small mixing bowl and stir to coat apple pieces, set aside.
Cut bread slices into triangles (that's in half, just triangle shaped). Place one layer of bread (6 triangles) on the bottom of the slow cooker, add ¼ of the filling and repeat until there are 3 layers of bread. Add the remaining filling to the top.
Pour egg mixture over bread. Cover and cook on high 2 to 2-1/2 or low 4 hours, or until bread has soaked up the liquid.
3 Bananas (diced) can be substituted for apples.
Note: Drizzle with 100% pure maple syrup if desired.
Tip:  This would be a great recipe to make on the weekends when you know the kids are going to sleep in (if you're lucky because mine don't).  You can have this cookin' while they are snoozing away
Source: http://skinnyms.com/slow-cooker-french-toast-casserole/
ENJOY these recipes and don't forget- SHARE them with others!